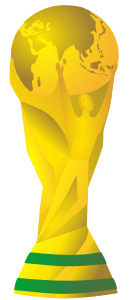 Holiday tactics, big screen strategy and football magazine management
Every four years it's the same: excitement, hype, speculation, patriotism . . . inebriation. The World Cup is a wonderful invention, albeit a painful one for the Three Lions' faithful. But if we are all going to spend another Autumn bemoaning the fact that we were robbed of the sport's greatest prize, then the least we can do is party in style while the going is good.
Fail to prepare and you prepare to fail, they say. So, here are our top 5 tips on supporting England like it's 1966.
Remember to hand in your holiday form
Forget vacations, staycations, weekend breaks and the like this year. What you need to bear in mind when you're handing in your holiday form is the dates of the big games and the recovery days – you know what we mean – you need afterwards. Book your days off well in advance to ensure that Brenda from accounts doesn't get there first.
Remember: hangover at work plus a bout of the "knocked out" blues is not a recipe for promotion!
Locate your nearest "Big Screen"
Pass almost any pub, bar or café and you'll see this badge of honour on a banner or bedsheet in the window. But choose wisely. Genuine World Cup atmosphere is like gold dust and you won't want to miss an ounce of it. Go where the people are on match day and you'll squeeze the maximum banter out of every game.
Never be afraid to share an opinion on tactics, trivia and controversial predictions with strangers over a pint, either. For one month only, every other patron is a brother or sister in arms. And if you want to accumulate extra fan points, why not go the extra mile and attend with face paint, a full length flag or a Chris Waddle mullet?
Plan an opening ceremony party
Make your humble abode a destination venue this year by hosting your own opening ceremony party – a particularly good idea if your gatherings are more of a family affair these days. Whether it's fancy dress, holding a sweepstake, dusting off your table football for a mini competition or just getting people around the BBQ for a good chat, there are tons of ways you can whet your guests' appetite for the tournament ahead.
Swat up with your favourite football magazine
If you like to be the one with more sporting data than the Opta index, don't miss out on the World Cup edition of your favourite football magazine. Whether you prefer a down the line approach with a
FourFourTwo subscription
or a more left-field view from
When Saturday Comes magazine
, you'll blow the competition away when it comes to any great footballing debate. After all, the figures never lie.
Flags, flags and more flags
Put them on your car, in your car, around your car, on your wall, in your house window, from the flagpole – if you're lucky enough to have one. England has an obsession with flags when it comes to tournament time, and although it might not match perfectly with your Farrow and Ball walls, you'll need to simply bite the bullet and put your country first. After all, it's only for a month.
However you choose to mark the occasion for Brazil 2014, make the most of it. Because it could be over before you know it!